Müller & Egerer Bakery
The idea is simply brilliant!
Müller & Egerer - Deine Backstube currently runs 60 branches across northern Germany. Since early summer of 2018, Lattiz has been a part of the standard paraphernalia everywhere.

"It's a god-send for our teams," says CEO Jan-Christoph Egerer. "Thanks to Lattiz, we can successfully tackle the three major challenges - quality, product stability and hygiene". But how do we use the milk foaming machine developed by FrieslandCampina in daily grind?
We meet up with Jan-Christoph Egerer in one of his outlets in Bremen. The tables outside have some guests enjoying their morning coffee despite the freezing temperature. A woman takes a big sip and smiles as she dabs some of the fluffy milk foam from the tip of her nose with her index finger. That's precisely what we are going to talk about - Milk foam. Anyone entering the Müller & Egerer bakery across the nostalgic tiled floor is immediately beguiled by the enticing aroma of fresh rolls, biscuits and coffee. In the background plays the typical foaming sound that tells you a latte macchiato is being prepared.
"Hello, what can I do for you", a service employee greets me with a radiant smile. My gaze settles on the sumptuously filled display case: In view of all the delectable temptations, the decision is anything but easy. For the past eight years, Müller & Egerer has created the product range, products, service and the look of the branches under the motto "Deine Backstube" (meaning - your bakery). The customers are allowed to see and get a whiff of the full range of products as baking is done directly on site at workstations visible to the public. Rustic tables, colourful chairs, comfortable armchairs with checked fabric, lots of wood and floral wallpaper, a children's play corner: Everything is coordinated to a T.
Above all, there is the aroma of something which has traditionally been one of the most important products at Müller & Egerer - their coffee! Jan-Christoph Egerer explains: "We ask ourselves again and again: How does it feel for customers to be with us, to buy something from us or to revel in it? We constantly question the concept and our services and are always eager to improve ourselves". The most important thing is to stay authentic: "We believe everything must be A-OK with us".
Good coffee is incomplete without a cosy atmosphere
Müller & Egerer Bäckerei Konditorei GmbH builds and operates elaborately designed outlets that offer a cosy place in a size between 100 and 250 square metres. "We offer a place where people feel at ease, a meeting point, and also an opportunity for people who want to unwind with their brew and biscuits in peace", says Egerer. "An essential part of it is good coffee, which is one of our central and most consistent products. A very delectable commodity for our industry".
Müller & Egerer works together with their long-time partners. For 25 years, their filter coffee has come from J. J. Darboven - the roasting house in Hamburg. The espresso product, which is made from pure Arabica beans produced using sustainable agricultural practices, has been purchased from the private Viennese roasting house Daniel Moser for 15 years. "We go to great lengths to be able to offer tea, cocoa and, above all, coffee of the highest quality. You can taste the difference," says Egerer. Almost all branches of the bakery chain are equipped with portafilter coffee machines. At the company headquarters in Rastede, Lower Saxony, there is a fully equipped outlet where employees are regularly trained in coffee preparation. "This is a complex subject. It's not enough to just buy the best machines - even the operators have to be well trained".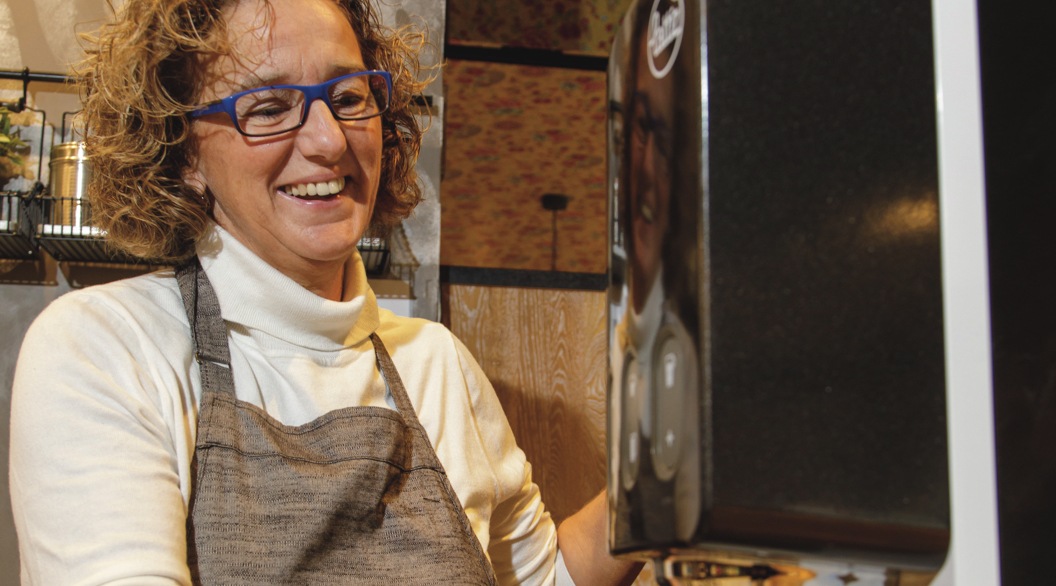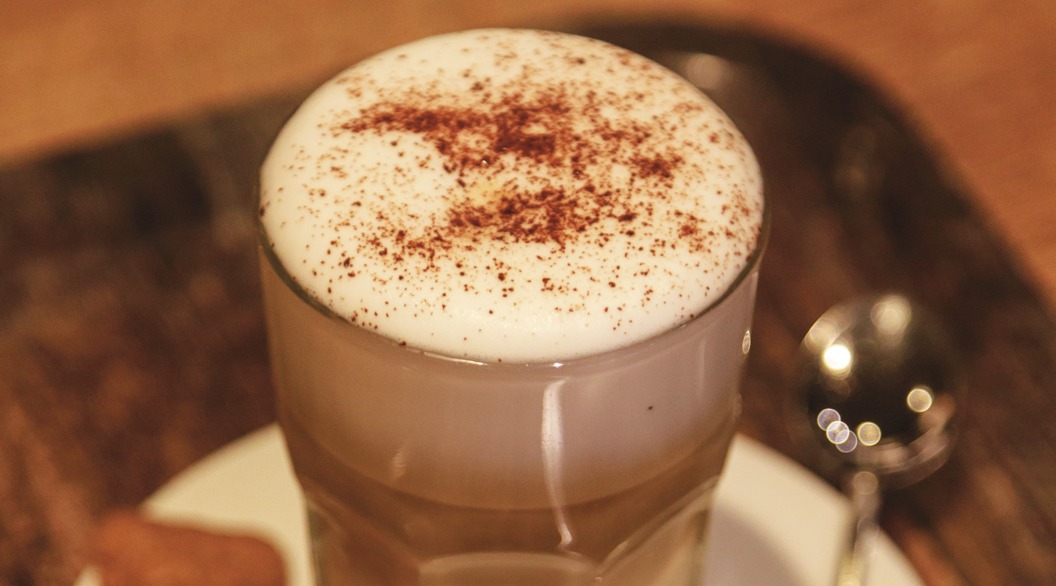 Beginning of the Lattiz era
"Irrespective of whether the focus is on raw materials or machines for processing, Müller & Egerer not only focuses on quality but also on consistency in its business relationships. "We are interested in long-term partnerships," reports Egerer, a graduate in business administration. "We don't believe in switching between suppliers or cooperation partners every now and then just because something is offered cheaper. For us the whole package has to be right. Just like with FrieslandCampina and Lattiz." He got to know the FrieslandCampina team at the end of September 2017 at "Südback" in Stuttgart, a trendsetting trade fair for the bakery and confectionery industry.
Jan- Christoph Egerer was immediately sold on Lattiz: "The idea is simply brilliant- and so simple!" He explains how a certain percentage of water is removed from the highly concentrated FrieslandCampina milk beforehand and added back to a coffee speciality during the production process. Egerer: "Each Lattiz-foaming process is carried out individually. Before and after which, hot water rinsing takes place automatically so that the hygiene problem is completely taken care of". According to the seasoned managing director, it is ideal to prepare the milk foam manually.
Portafilter coffee machines are equipped with appropriate nozzles and are still used in Müller & Egerer branches for pure milk preparation specialities or products with soy milk. "At rush hours, the production of cappuccino, latte macchiato and the likes of it used to take far too long. So before Lattiz, we used extra milk foaming machines in many branches,"" reports Egerer. "However, there were massive problems with them, and not just from a technical point of view. They required an elaborate cleaning effort and gave rise to hygiene problems time and again."
Sales manager Andreas Hauptfleisch adds: "Milk from farmers is subject to natural fluctuations, which makes foaming even more difficult. When it comes to Lattiz, we can be sure that quality and hygiene standards are met."" With conventional machines, the milk is completely heated. However, since milk bacteria multiply rapidly in a short period of time, there is a health risk that calls for an extensive cleaning process. Jan-Christoph Egerer: "Before our Lattiz days, the service team had to disassemble the machines completely on a regular basis and clean them with the perfect mixture of cleaning agent and water. Thanks to Lattiz, everything now runs fully automatically. This saves each of our teams half an hour of cleaning time per day."
High quality milk foam and more hygiene.
Lattiz stands the test of the daily grind
"An investment like this naturally needs to be carefully considered in advance. Jan-Christoph Egerer: "With Lattiz, you buy an entire system, because the machine works exclusively with the special milk concentrate from FrieslandCampina. That's why we wanted to consider everything thoroughly and test it in advance." When we opened a new branch in Bremen's Überseestadt in December 2017, we thought it would be the perfect test market. Lattiz was put through its paces there in the everyday grind for about half a year - to good effect.
"The pros outweigh the cons, as far as hygiene is concerned. In addition, customers do not like big fluctuations in quality, which fortunately are a thing of the past thanks to Lattiz. We at Müller & Egerer firmly stand by our decision in favour of Lattiz". The complete process, i.e. purchase and conversion of all branches to Lattiz, was carried out by our in-house cooperation partner Kaffeeplan from Bremen. So far, there have not been any technical problems with the milk foaming machine from FrieslandCampina in any branch.
A replacement machine is kept as a stand-by just in case, which, however, has not yet had to be used. "Given the enormous quantities that we process every day in our branches, this is really remarkable. The service team at Müller & Egerer - Deine Backstube is so thrilled to see how easy Lattiz's modus operandi is. Vivienne Tie from the branch in Bremen Neustadt says: "That's such a relief as compared to the workload before. You can't do anything wrong with Lattiz and the extremely tedious task of cleaning is completely cast off." Her colleague Kiera-Marie Moch commends: "Everything rolls so quickly and conveniently now, it gives us more time to look after the customers." Saying this, she pushes an aromatic cappuccino over the counter - with a perfect milk foam topping."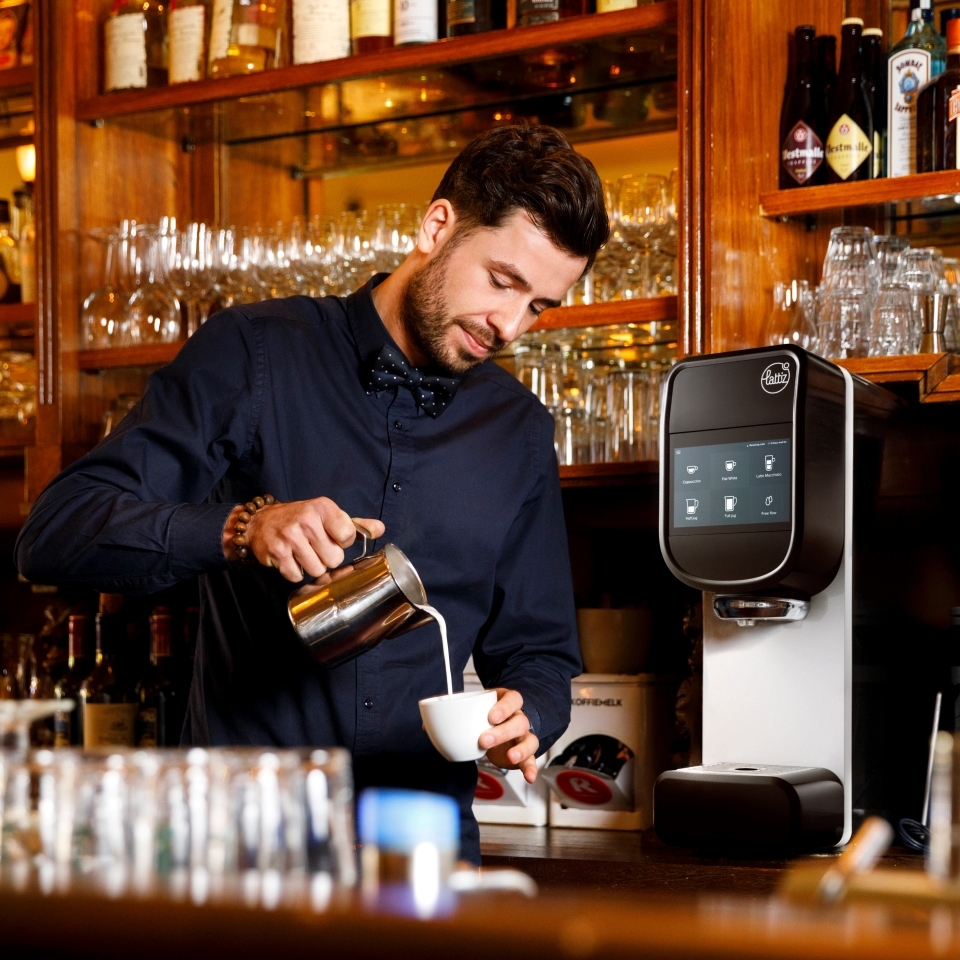 Feel inspired? Experience Lattiz with a free demo
We'll be happy to show you how it works at your location.
Request a demo