Fletcher Hotel-Restaurant ByZoo Emmen
All because of Lattiz's constant quality and hygiene
At the new Fletcher Hotel-Restaurant ByZoo Emmen (fletcherhotelbyzoo.nl), guests can go for a latte or cappuccino 24/7. Because speed, accessibility and constant quality is important to them they work with the milk solution of Lattiz.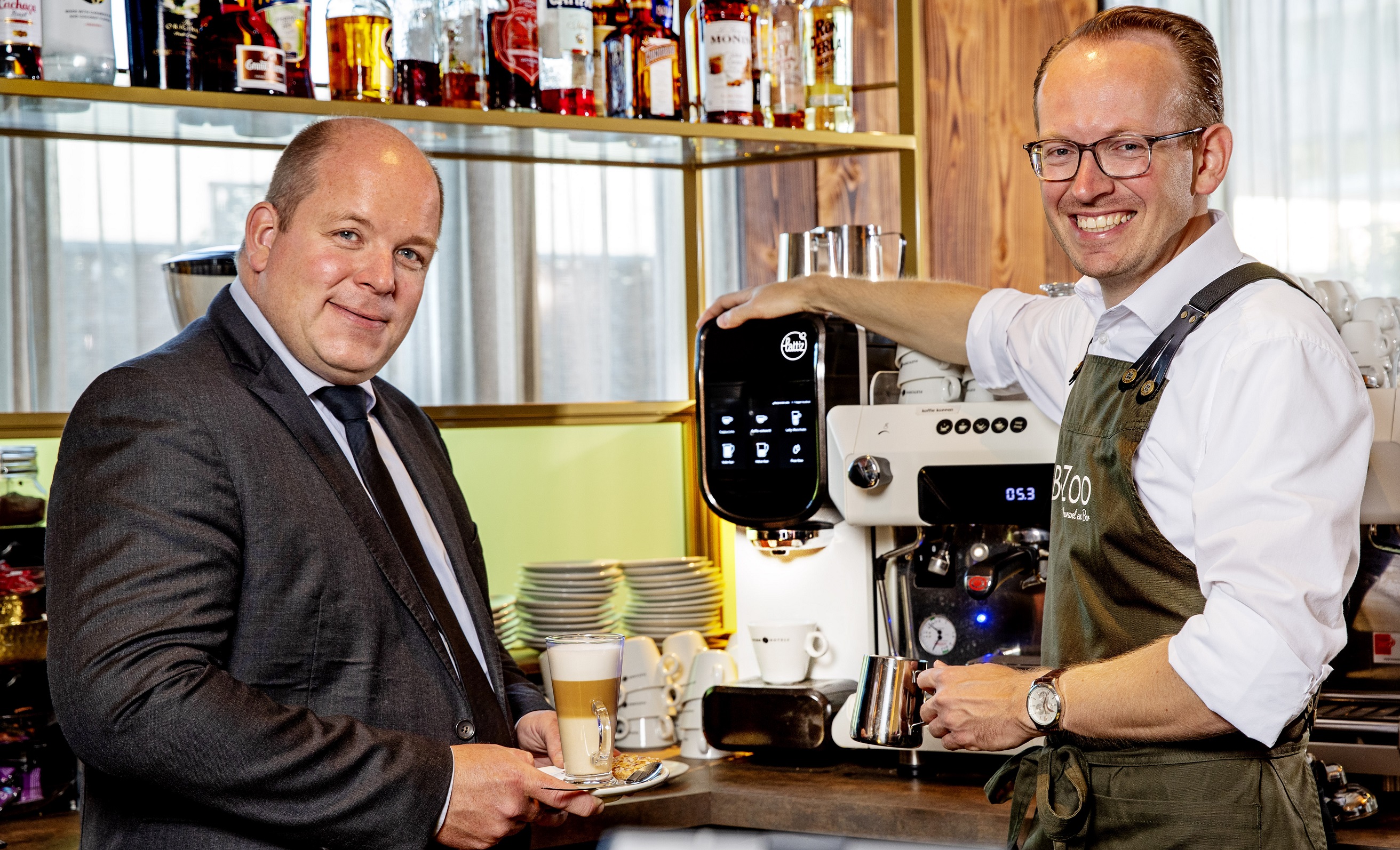 In Emmen, in the Dutch province of Drenthe, lies a new hotel of Fletcher: ByZoo Emmen. It is an appropriate name because at a stone's throw away lies WILDLANDS Adventure Zoo. According to experts, it is the most beautiful zoo in the Netherlands. The Fletcher hotel receives many guests who come to the town for a visit to the zoo. But also, residents of the area themselves know how to find the location, for the restaurant. Here they serve dishes in street food style according to a shared dining concept: small dishes to share, such as beef bavette, prawns, roasted vegetables, and tuna wraps. The restaurant is stylishly decorated, with a nod to the zoo.
Hotel manager Henk-Jan Klinkhamer, previously ten years employed by De Bonte Wever in Assen, and since the opening on 26 March for Fletcher Hotels, proudly explains: "We are here in Drenthe in a beautiful area, so we get a lot of tourists. People who visit the zoo of course, but Drenthe also offers nature reserves such as De Hondsrug and the Emmerdennen, lots of nice villages, and the Veenpark open-air museum. And because there is a lot of road construction and oil and gas industry here, we also get a corporate audience."
Unique hotels
Fletcher Hotel-Restaurant ByZoo Emmen is part of the well-known Fletcher Hotel chain, which has over one hundred hotels throughout the Netherlands. The hotels are located in beautiful spots in the country. Klinkhamer: "Each hotel is different and unique. We have different concepts, with a lot of diversity." For example, Fletcher has wellness hotels, beach hotels, country hotels, and city hotels like this one. "The distinction in hotel types makes it clear to the guests what they are booking. The structure, however, is the same everywhere, so that guests receive the same quality they expect from us."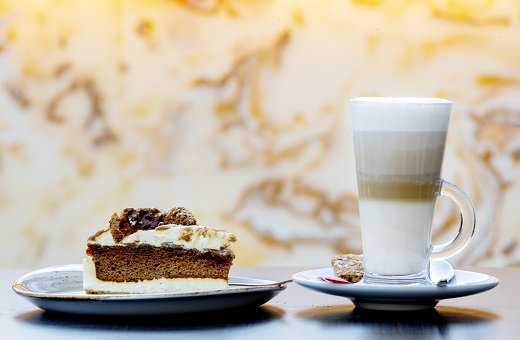 Lattiz
That same consistent quality is also one of the reasons why Restaurant ByZoo works with Lattiz, explains restaurant manager Sander Meijers. During his induction period at Fletcher Hotel-Paleis Stadhouderlijk Hof in Leeuwarden, he had already become acquainted with the product. Partly on his recommendation, Lattiz was chosen. "If you must froth the milk for every latte or cappuccino by hand, it takes a lot of time and you can't offer the same quality as with Lattiz. Now, we can also make several cappuccinos at a time. Moreover, it is a very accessible system. This is important for us because we are open 24/7 and the receptionists, for example, should also be able to work with it. At the touch of a button, you get a cappuccino or latte with perfect milk foam."
"Now, everyone can make a latte or cappuccino of quality."
Clean counter
"For each cup, you use exactly the right amount of milk, so you don't throw anything away," Klinkhamer says. "In addition, it is a closed system and therefore hygienic. With us, the reception and the bar are one. In this way, the counter where the machine is placed remains as clean as possible. And that is usually the first impression on guests."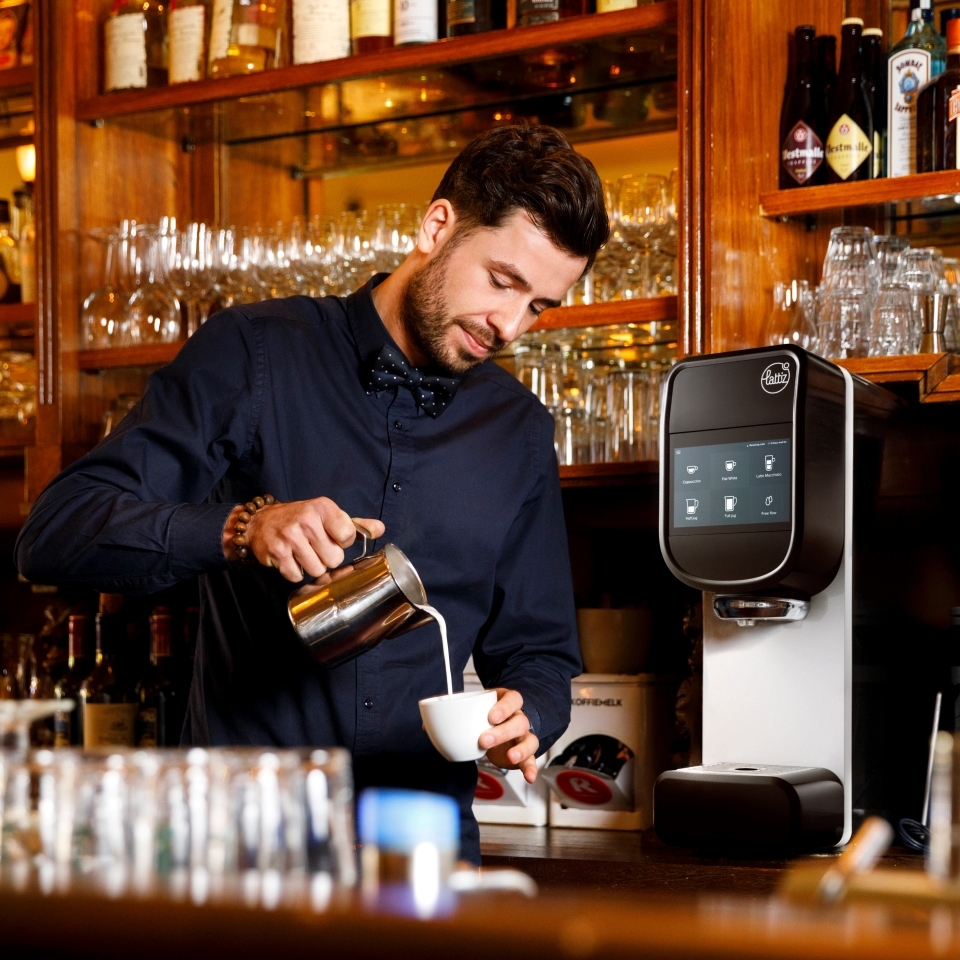 Feel inspired? Experience Lattiz with a free demo
We'll be happy to show you how it works at your location.
Request a demo