Kiosk Amersfoort Central
'1100 cups of coffee per day'
The dynamic in the Kiosk stores at Amersfoort Central Station cannot be compared to other coffee bars: speed is crucial. Senior category manager Sander Turk and salesperson Jeannette Pater each find their own way to reach the same goal: to serve travellers in the shortest time possible. And hand them a good cup of coffee, of course.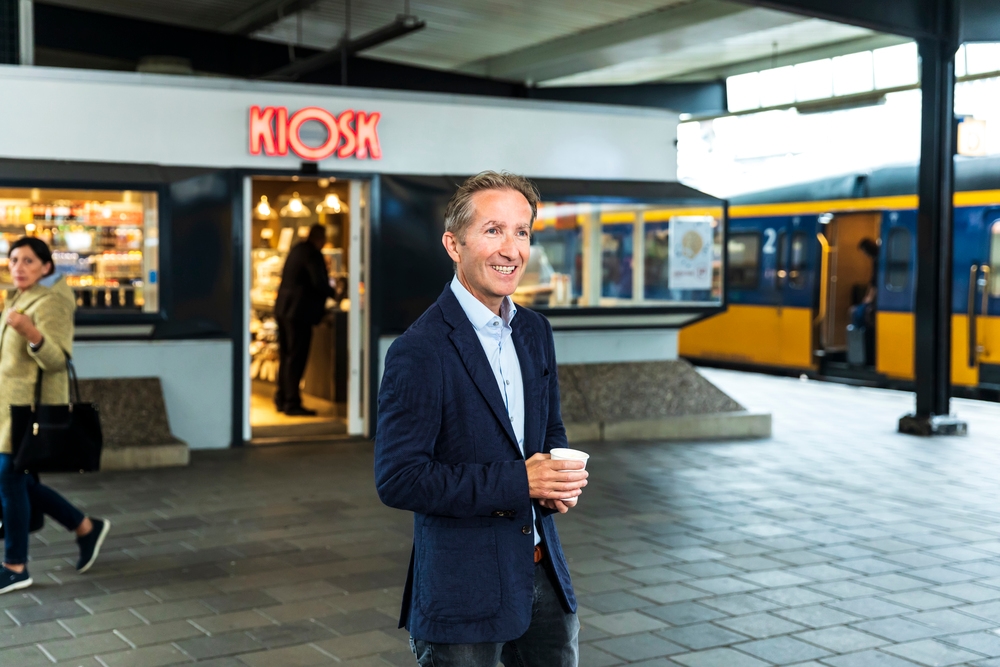 The average traveller spends seven minutes at the station, measured from the moment they pass through the gates until the departure of their train. This brings with it the special dynamic that salesperson Jeannette Pater loves. "Everything revolves around speed, no day is the same." Sometimes trains are delayed, or arrive at a different platform than planned. It means that the flow of Kiosk customers can turn around completely in a minute. "And when there are major weather or technical problems with the railways, customers get free coffee and tea for some comfort during the delay.
How many coffees on average are we talking about?
Jeannette: "That differs per Kiosk. We sell 300 coffees a day in the central hall and on platform 1/2. On platform 6/7, we average 500 – during rush hour, we have one person constantly pouring coffee there, while two others run the cash registers. Cappuccino is more difficult though: the foam collapses if the coffee is left waiting too long. This is where Lattiz has been a real asset for several years now, as the milk foam remains firm and smooth for quite a long time." 
Why did Kiosk choose Lattiz? 
Sander: "We wanted to increase the quality of our coffee. Which is not just a matter of choosing the right coffee machine and a good coffee blend; the milk foam is important too. Changing staff should have as little influence on the quality of the foam as possible. Additionally, there isn't enough time to manual froth at the station. The Lattiz milk foam is of a consistent quality and high standard."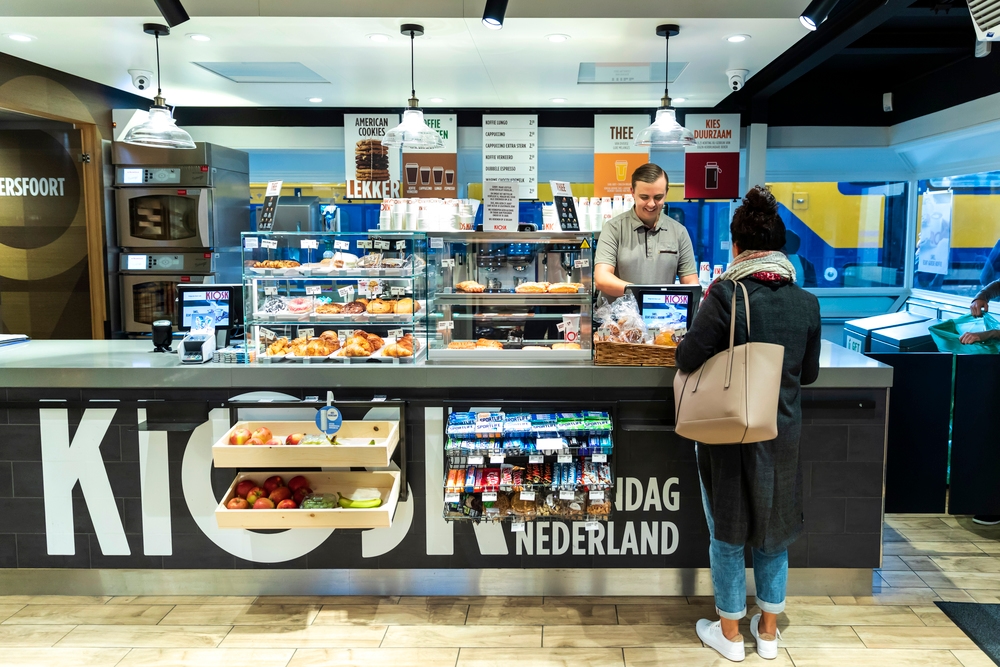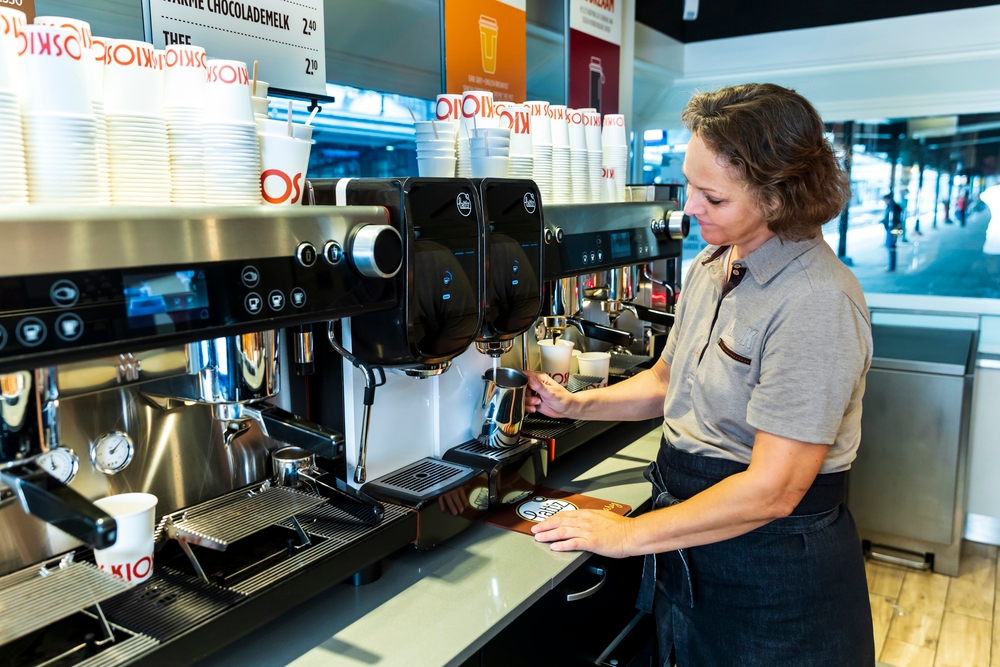 And what coffee machines do you have? 
Sander: "In the central hall and on platform 1/2 the Kiosk stores have been remodelled. We have semi-automatic machines there that resemble a WMF espresso machine. After all, when preparing coffee, there are many steps that determine its quality: how much coffee do you put in the filter holder? How hard do you tamp? How do you clean it? Having the semi-automatic machines means that we don't have to worry about those things. The employee empties out the filter holder, but the machine fills it itself and tamps the coffee. At the press of a button, we have barista-quality coffee. Lattiz contributes to an artisanal experience: the milk is poured manually and attentively."
Which coffee beans do you use? 
Sander: "We've developed two coffee blends together with our supplier SMIT&DORLAS – one for espresso-based coffee and one for 'normal' coffee. The customer can expect to find a strong, Italian espresso with notes of bay leaf and apple syrup in their cup, whereas lungo has more fresh fruit tones."
And, how do customers experience the improvement in quality? 
Jeannette: "They really like the velvety foam made with Lattiz." "And Lattiz 2.0 is even easier to use", she says. "For example, the drip tray is easier to clean, it's virtually silent, rinses automatically and splashes less. The machine also starts up faster, you simply have to tap the touchscreen. It's so fast and convenient." 
Sander: "There was a recent article in the NRC: 'NS serves a good cup of coffee these days.' That really made me glow: serving good station coffee is our goal. The share of milk coffees is already more than 60 (the proportion of milk coffees has also risen to 59 per cent in the past year, 10 per cent)"
Customers are taking a real liking to the full, creamy foam of Lattiz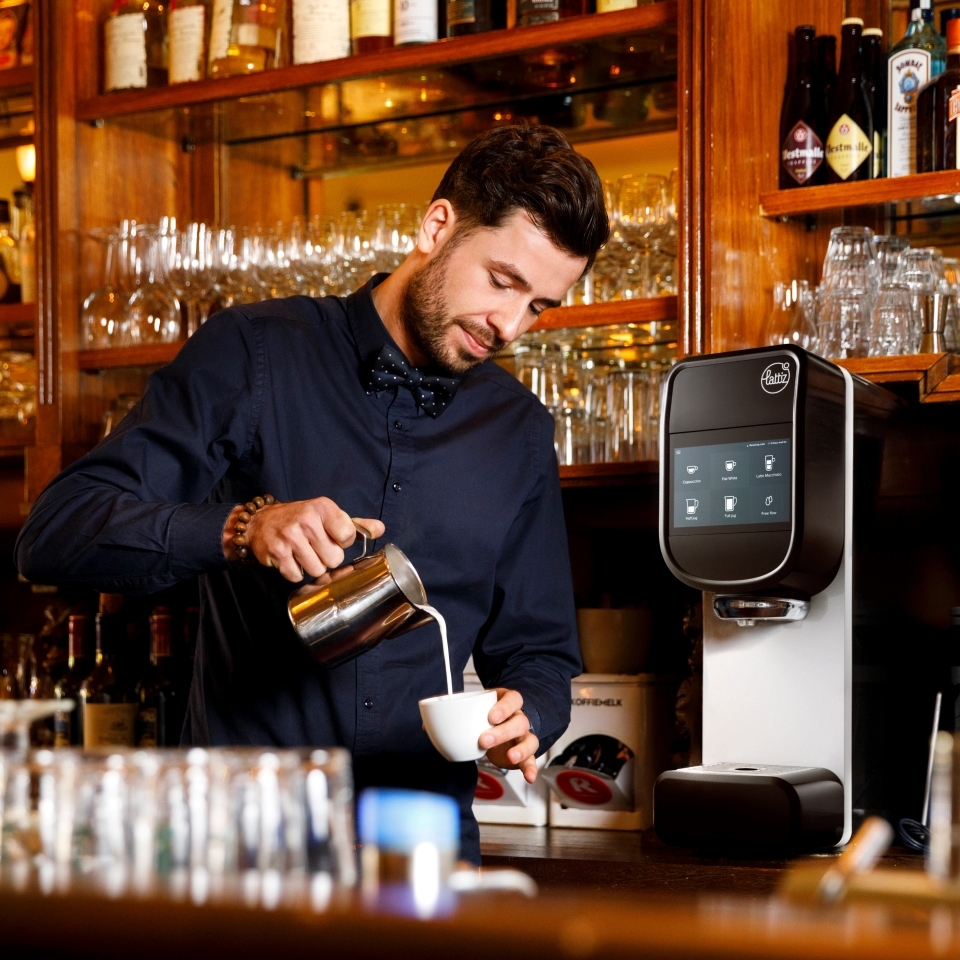 Feel inspired? Experience Lattiz with a free demo
We'll be happy to show you how it works at your location.
Request a demo