De Troubadour
With Lattiz, we prepare latte specials in no time, it's fast and fun.
The delicious cappuccinos of grand café and restaurant De Troubadour are in demand amongst many guests. This is also the case for their lattes with white chocolate, speculaas and caramel. We travel to the little town in Overijssel to try one ourselves.
About the location of grand café and restaurant De Troubadour in Hardenberg, we can keep it short: its location by the river de Vecht is simply fantastic. Hikers and people by bike who pass the bridge from the Brink to the Voorstraat are immediately met with the beautiful terrace. But it is not only a great place to spend time on sunny days, says office manager Yasmin Potgieter (20) enthousiastically. ''The entire day, there is a nice atmosphere in De Troubadour and we welcome many different guests, ranging from lunching business men and women and locals to friendgroups who visit us for a nice dinner.''
Potgieter has worked in this company since last year, which was opened by her parents Herman and Greta Potgieter in 2001 and where, in the meantine, son Dylan and son-in-law Michel have started working as well.
Two years ago, the company went through a complete restyle. Potgieter explains: ''a fire destroyed the whole building. It was a drama, but we didn't throw in the towel. After a year of rebuilding we reopened with new interior and a new concept''
Modern and nostalgic
The result is impressive: a modern business with nostalgic elements here and there. On the walls, there are pictures of artists who performed in Podium Hardenberg (has closed), which was also owned by family Potgieter.
Potgieter is specificially proud of the spacious conservatory with a roof terrace - the view over the water is phenomenal - but is also proud of the guests' great reviews on the culinary level. Also something special: there is high beer, high wine and high cocktail on the menu. It is no surprise that this place is frequently packed. ''During the weekends, about two hundred guests visit us for dinner during the evening and on a beautiful day, the two terraces are often also full, according to Potgieter.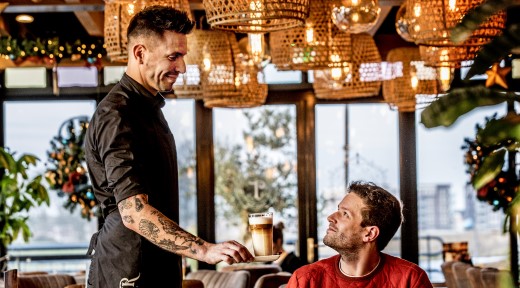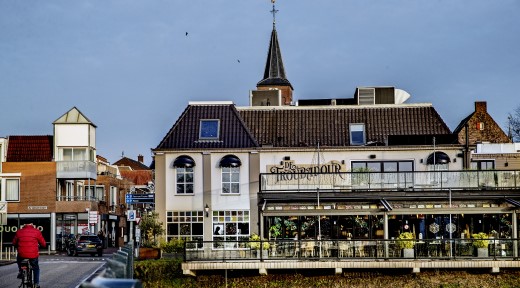 Ease of use
In the beginning the success also had a flip side, says Potgieter. ''when guests ordered a cappuccino or a latte, it caused frustration among staff behind the bar. We had a slow milk foam machine that was frequently jammed and was difficult to clean. Nobody wanted to work with it.''
This changed about half a year ago when Potgieter requested a free Lattiz demo, the smart milk solution produced by the dairy company FrieslandCampina. ''A Lattiz employee explained everything clearly on the first day and everyone was instantly enthousiastic about the ease of use. It was immediately clear to me: this Lattiz machine is a keeper!''
It was immediately clear to me: this Lattiz machine is a keeper!'
Special lattes
There are many benefits to Lattiz, which Potgieter has experienced. ''With the touch of one button, every employee can quickly create perfect milk foam. In addition, the machine cleans itself and indicates when a Lattiz pack is almost empty. This prevents a lot of waste.
And something which is important, too: the taste of the milk foam is good.'' According to Potgieter, the machine came just at the right moment. ''Our coffee segment's revenue is increasing and we sell about fifty to one hundred fifty coffees on a daily basis. Especially the popularity of cappuccinos is increasing very rapidly and also our lattes with white choclate-, speculaas-, and caramel syrup are in demand.'' About the latter Potgieter says: ''For this, we use Monin syrup, coffee and Lattiz and we top it off with tasty toppings such as pieces of cookie or whipped cream.
If a guest ordered these half a year ago, they had to wait a long time. Moreover, staff wasn't too happy with such an order. That is history. In fact, with Lattiz it is fun making a special latte!''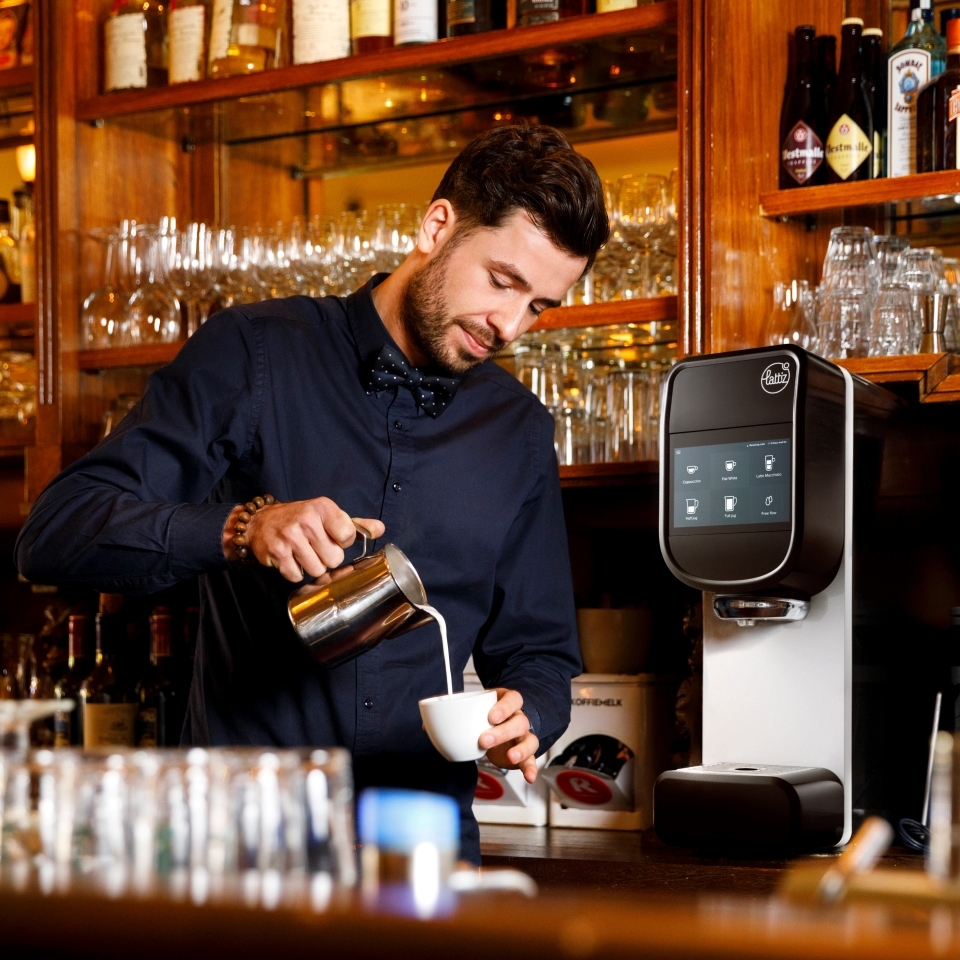 Feel inspired? Experience Lattiz with a free demo
We'll be happy to show you how it works at your location.
Request a demo